Dear IAF delegates,
We have a pleasure to invite you to the IAF meeting of European delegates. This meeting will be held during the International Falconry Field Meet in Opočno, Czech Republic. This year the Czech Falconers Club celebrates the 50th anniversary of its foundation. You are very welcome to join us for the whole event.
Date
The IAF meeting is planned to be on Friday 13th October (from 9 am to 5 pm). All registered IAF delegates are invited by the Czech Falconers Club to the Gala evening (start at 7 pm).
Accommodation
For accommodation in Opočno, please specify the date of arrival and date of departure. The Czech Falconers Club will organise the accommodation for you (prices will be specified).
Accommodation in Prague must be arranged by the visitors themselves.
Return
Return bus from Opočno to Prague will be arranged based on departure flights of the IAF delegates (most likely Sunday morning). All other services could be arranged according to visitors' needs. (If we know detailed information about the arrival and departure date and time, we will make plans for more convenient transport).
Place
Opočno is 150 km north-east from Prague (2 hours drive) (see the map)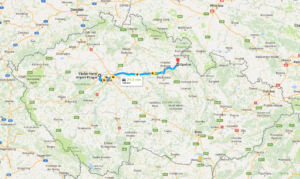 Programme of the falconry meeting:
Wednesday 11th October
Arrival in Opočno
"High flying falcons championship" – afternoon (competition for falcons – flying to balloon, drones, kite)
Celebrate mass in the chapel – evening
Thursday 12th October
Ceremonial start of the field meet at the Opočno castle – 9 am (horses, coaches, historical costumes, etc.)
Hawking – 11 am – 5 pm
Closing of the first hawking day – 7 pm
Concert of horns, trumpeters – hunting music – evening
Friday 13th October
Morning start of the field meet – 10 am
Hawking – 11 am – 5 pm
IAF meeting at the Opočno castle – Meeting room arranged (computer, screen, projector), Tea, coffee and snacks arranged

1st IAF European Meeting (9 am – 1 pm)
IAF working groups, any other business (2 pm – 5 pm)

Closing of the second hawking day – 7 pm
Gala evening (food, drink, music) – 8 pm
Saturday 14th October
Morning start of the field meet – 9 am
Falconry display for public – 10 am – 11 am
Hawking – 11 am – 5 pm
Ceremonial closing of the field meet at the Opočno castle – 6 pm
Let us know
If you are planning to visit the IAF meeting, please send the following information to tkunca@gmail.com and hannah@bshawk.cz
Date, time and place of arrival
Way of transport (car/plane)
Date and time of departure
Bus from Prague to Opočno (Thursday evening)
Bus from Opočno to Prague (Sunday morning)
With your hawk/falcon?
If you are planning to come with your hawk/falcon, please follow the information for the international falconers (not finished yet, sorry).